Old Bøyum article page
All articles in this pages are moved from my old website.
The LOSNA Coat of Arms
Our Bøyum (Boyum) family relates back to the old vikings. The coat-of-arms shown in the picture above is from the Losna clan where our part of the Bøyum family are releated. The coat-of-arms from the Losna clan is from around year 1000-1300. A man named Filippus Erlandson Josna (1290 - 1340) was a part of this clan. Filippus had a son the called Fartein. Fartein Filippusson was named Filipus. Filipus Farteinson again had the son Fartegn. Fartegn Filipusson Losna (1415 -1450) is our link into the Josna clan.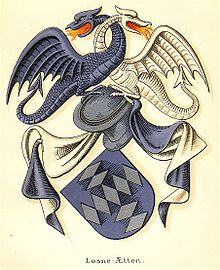 Coat of arms drawn by Anders Thiset for Danmarks Adels Aarbog 1902
---
LOSNA CLAN
Losna clan was part of a Norwegian aristocrat clan in medieval times. Their headquarters were at the farm Losna on the island Losna, north of Sognefjord mouth.
The most prominent clan members were:
| | Erlend Filippusson | (Born in 1330's, died in 1407) | (Father: Filippus Erlendsson) |
| --- | --- | --- | --- |
| | Eindrid Erlandson | (Born around 1384 died in 1440) | (Father: Erlend Filippusson) |
| | Erlend Eindridsson | (Born 1400 and died about 1450) | (Father: Eindrid Erlandson) |