ABOUT ME
Here are some brief information about me.
Inquiries about our Boyum family
If you have information about people missing in your family tree, or have found errors or others lack, please contact me by eMail address below. The same thing you can do if you want to contact or have questions about the content of the website.
---
Personal information
My name is Jan-Ivar Bøyum. I am an active man at the age of 69 and exercising at least 2 times per week. I still play Team Handball in the veteran league. After I retired as a systems analyst (computers), I have not completely given up to work in this area. I still working on developing systems on a private basis, and may consider taking on development projects. After I retired, I also had the opportunity to update this website.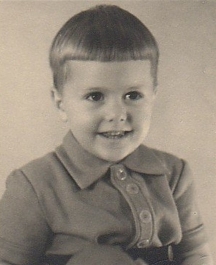 Picture of me - 7 year old (first day of school)
---
Professional career
I started my professional life to educate me car mechanic and car electrician. After a period where I was working on this, I had to start school again because of a bad back. I took an education as COBOL programmer, and it was the start of a long career in the computer industry.
I started in BBS (later NETS), where I had a rapid development and worked mostly with relatively new technology. The last 20 years I worked with electronic imaging, scanning and electronic archiving. My career includes:
| | |
| --- | --- |
| | Project leader developing BBS mainframe system responsible for posting data and print systems |
| | Technical Coordinator in the development of today's image based giro system in Norway. (1988-1990) |
| | Participant and developer in the project that developed the first digital archive at BBS to save Giro (1990 - 1992) |
| | Architect and concept development for Nets Brevgiro system in Norway (submission of check/giro by post) (1992-1993) |
| | Developer of GiroFax system designed for fax transmissions of images (giro) and text. (1994 - 1995) |
| | Developer of the first proprietary archive system in Nets and participant in most development around archive (1995-1997) |
| | Architect and concept Development for the basis of Nets archive architecture (1998-1999) |
| | Data analysis and architecture of most of today's Nets archives and systems around these (1996 - ) |
| | 30 years experience in IT development on mainframe, Unix and PC |
---
Contact information
eMail.: jan-ivar@boyum.priv.no
Adress: (Ask for it by eMail)
Phone.: (Ask for it by eMail)